Q.
Good morning!
I saw this butterfly yesterday outside of my office and almost stepped on it, thinking it was a leaf! My husband and I both tried to identify it with no success. Can you help?!
Thank you,
Kim B.
Feb. 20, 2013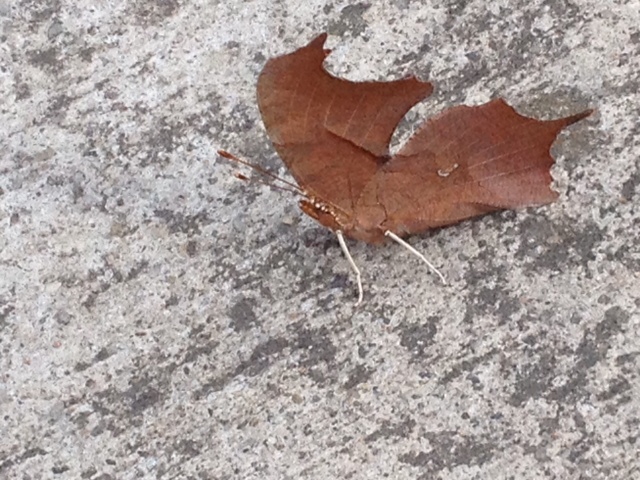 A.
Hi Kim,
I am pretty sure it is a Question Mark Butterfly, Polygonia interrogationis.
It is similar to the Comma Butterfly (Polygonia comma), but has an extra little "dot" on the hindwing marking.
Both of these species are native to this area and both overwinter as adults, so it isn't too surprising to see one at this point.
http://www.naba.org/chapters/nabambc/frames-2species.asp?sp1=Polygonia-interrogationis&sp2=Polygonia-comma
Hope that was helpful. We will be happy to attempt ID for any critters you get questions about. It's fun.
Laura Seale
Rivanna Master Naturalists
If you have a question for the RMN Naturalist Help Desk,
email us at rmnhelpdesk [at] vmn-rivanna [dot] org.