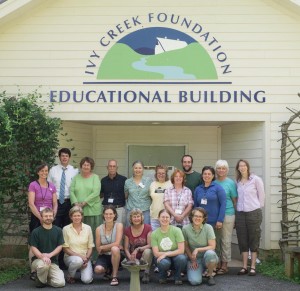 The Rivanna Chapter of the Virginia Master Naturalists is pleased to announce that the 2014 Basic Training will
begin February 11 at the Ivy Creek Natural Area. This year's class will be on Tuesday evenings with some Saturday field trips scheduled.  A tentative schedule, application, and reference forms are posted on the Training page, and they are due January 10.   For more information, email RMN Chapter President, Laura Seale at  lauraseale68 [at] gmail [dot] com or
rivannamn [dot] info [at] gmail [dot] com.
The Virginia Master Naturalists is a corps of volunteers dedicated to conserving our natural heritage.   We assist local sponsoring agencies such as schools, environmental groups and Virginia State agencies.   We educate, gather scientific data, maintain trails and other environmental endeavors.   We have a broad range of age, interests and backgrounds.  And we are looking for like minded people to join our mission.
We strongly encourage you attend an information session to meet some of the Chapter members as well as  better understand the program and the volunteer requirements.   Three different sessions will be held at Ivy Creek Natural Area Education Building at 1780 Earlysville Road, Charlottesville, VA 22903.   They are December 10 at 7 PM, January 4 at 10 AM and January 7 at 7 PM.