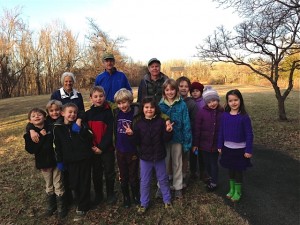 4-H Junior Master Naturalists has been one of our chapter's important environmental education programs for a number of years.  We sponsor three full-fledged Jr. Naturalist programs at Ivy Creek Natural Area in Central Albemarle County, Baldwin Education Center in Southern Albemarle County, and in Fluvanna County. We have also contributed to similar programming at Southwood Mobile Home Park with the hope that this may be a site for a Jr. Naturalist program in the future. The purpose is to interest and excite children in the wonders of the natural world and expand their understanding of natural phenomena. In all cases, children are placed in age appropriate learning groups for individual sessions and combined for field trips. For each program, a topic is chosen, sometimes a guest teacher is brought in, and children are involved in discussion, hands on activities and trail experiences. Volunteers in the Junior Naturalist program are truly dedicated and tend to stay with this activity year after year, building their own knowledge and extending appreciation of the natural world to the next generation.
To give you a flavor of what the Junior Naturalist clubs are like, we have two accounts from Rivanna Master Naturalist volunteers who regularly lead club activities.  RMN chapter members interested in volunteering with the clubs should contact Dorothy Tompkins (Baldwin Center), Mary Lee Epps (Ivy Creek), or Ida Swenson (Fluvanna.)  Parents interested in learning more about 4-H generally or the Junior Naturalist clubs specifically should contact the Charlottesville/Albemarle office of Virginia Cooperative Extension.
RMN volunteer Dorothy Tompkins, who co-leads the Baldwin Center 4-H Junior Naturalist club, writes: "Last year we had a much more structured approach to each session for the older kids than we have had this year.  Last year we had some "lesson" time with "slides" or other visuals then "hands on activities".  For example, we used "Project Underground" as a guideline for one session and the next time we took a field trip to Grand Caverns.  We tried to get outside a bit each session and asked them to keep a journal with drawings/sketches as well as notes.  This year to provide a different experience we are spending much more time outside, making observations about different topics, such as how plants and animals adapt for winter.  They are using their journals more this year.   We spend a little time each session on birds, emphasizing not only appearance, but behavior, flight patterns etc, so that they will get acquainted with the more common birds.   We plan a spring session on geology with one of our Master Naturalists who is a geologist showing them how to identify different minerals in rocks then taking them for a walk to examine what is right around them.  We have four Master Naturalists and a couple of parents who are regulars.   Sometimes other parents help, especially with field trips."
RMN volunteer Mary Lee Epps offered this report on a recent Junior Naturalist club meeting.
A Good Day for Wildlife
I help with a Junior Naturalist 4-H Club based at Ivy Creek Natural Area in Charlottesville.  Recently we had our first meeting of the spring semester on an unusually mild day for January.  Snow and bitter cold were forecast for the next day but now the sun was shining and the temperature was in the mid 50's.  As I headed toward the Education Building a few minutes before 4:00, I noticed a group of children and parents lined up along the path in front of me, all looking in the same direction.  Of course, I immediately asked what they were looking at and one of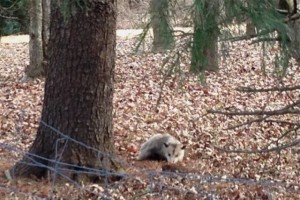 the children pointed excitedly to a small grey animal a few feet away.  It was a possum, playing dead.  They told me that it had come lumbering along when suddenly it noticed people ahead of it and promptly flopped on its side.  It looked convincingly dead to me, but the others assured me that it had been quite lively moments earlier.  We stood watching it for a few minutes.  Every time someone else came walking up the path, one of the children would run and alert him.  After a few minutes the possum raised its head to see if the coast was clear.  When it realized that the intruders had not left, it simply flopped down again.  Everyone remarked on how odd it was to see a possum in the daytime, even in late afternoon.
Eventually I tore myself away and went into the building to help register new members and make nametags.  (We open enrollment twice a year so that we had several new children to sign in.)    We started the meeting by having everyone introduce themselves, tell their school, grade, and a favorite animal.  (The choices this time ranged from elephant to humming bird.)  We then played a game to see who could recall as many of the children's names as possible.  Then everyone had a turn being blindfolded, feeling some sort of natural object, and trying to guess what it was.  These included a raccoon pelt, a black walnut, and a bear skull, but the hit of the afternoon was fake coyote scat.  All the kids insisted on feeling that one.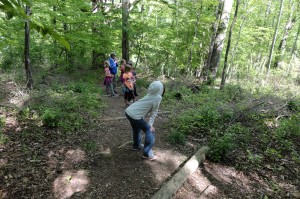 At every 4-H meeting, we hike on one of Ivy Creek's many trails and after going over the rules (no sticks, no one ahead of the first leader or behind the last one, and no wondering off from the group), we headed down the path toward Martin's Branch.  I was at the tail end and again I saw the group stopped ahead, lined up along the trail and looking off into the woods.  They had sighted a deer.
We then headed for the reservoir, on the way stopping to examine a young beech tree that had been cut off by beavers, and then had resprouted below the cut.  We also noticed a dead snag with gaping holes and a pile of fresh chips at the base, signs that it had been attacked recently by pileated woodpeckers.
As we approached the reservoir, we again warned the children to be VERY quiet because there were ducks on the water.  There are a lot of small boys in the club and this always proves difficult, but this time they met the challenge and we were able  to watch  5 pairs of mallards swimming along, all the time dipping their heads into the water searching for food.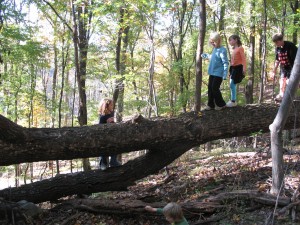 We ended the walk at a favorite downed tree that the children played on for several minutes before it was time to head back.  And as we approached the parking lot, what should come ambling along, but our possum.  It was definitely a good day for wildlife!