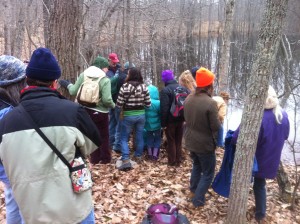 Rivanna Master Naturalist volunteer and chapter field trip leader extraordinaire John Holden sent this report on the latest of the chapter's annual visits to Maple Flats in Augusta County, and Rivanna Master Naturalist Devin Floyd contributed the fabulous photos!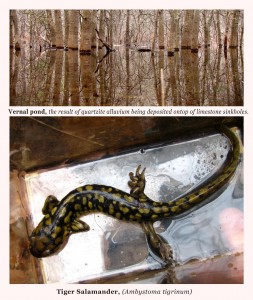 Maple Flats Ponds is a unique place, in the George Washington National Forest about 1 hour from Charlottesville.  It is comprised of several vernal sinkhole ponds in Alluvial deposits overlying Limestone and Dolomite, and it is drained by 2 small crystal clear streams.  There is also one permanent pond, fed by seven springs.  It is one of the best salamander sites in the East. In 2013 we found 7 species, in about 2 hours time.  It also is and has been home to Red-headed Woodpeckers and Wood ducks.  You can learn more about the unique ecology of the area and some of the interesting species found there at http://www.asecular.com/forests/mapleflats.htm, written by geologist and environmentalist Robert F. Mueller.
In a recent Rivanna Chapter field trip, 28 Virginia Master Naturalists, family, and friends braved a cold 40 degree day with a weather forecast promising a 70% chance of rain.  Those 28 were justly rewarded, as we found our first Tiger Salamander, a large striking species up to 13″ in size.  We also found Marbled Salamanders and a Spotted Salamander.  Both Marbled and Spotted salamanders are in the Mole salamander family, comprised of species that spend much of their lives underground.  Both species are associated with vernal pool habitats.  The most common salamander was the Redback and we also saw a Northern Dusky.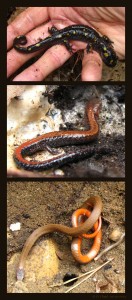 There is reason to offer another trip this Spring, to see species we usually see, the Red and the Slimy salamanders. We were also treated to seeing Hooded Mergansers, Ring-necked and Wood Ducks on the ponds.
Chapter members should watch the Listserv and the website for Salamander trip # 2, in April . If you want to go on your own to the unmarked trails and trailhead, John Holden would be happy to assist with directions.