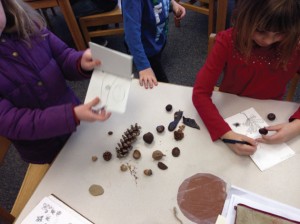 Lara Call Gastinger, a class of 2013 Master Naturalist, has started an afterschool Nature Drawing club at Burnley Moran Elementary. For six weeks (and each meeting for 1 ½ hours), Lara takes 10 students (mostly 1st graders) outside to find, observe, and document what they find in nature.
From Lara:
"They began by making nature sketchbooks with twigs and rubber bands. On a particularly stunning spring day, they sat under a tree in front of the school finding rocks, hemlock cones, tiny blooming speedwells, grass, pine needles and oak leaves. Our second meeting was inside (due to the snow and cold) but we had plenty of nuts and dried specimens to touch, describe, and draw.
Most importantly, was learning that real trees in nature do not look like lollipops. We went outside to observe a real tree and were amazed at its branches, textures, and leaves hanging on. In the next few weeks, we plan on adding watercolor to our sketchbooks."
Along with being a Virginia Master Naturalist volunteer, Lara is an artist and the head illustrator of the Flora of Virginia.  All the Virginia Master Naturalist volunteers who achieved 2014 recertification are sporting her artwork, as she designed the 2014 recertification pin image of the Virginia spring beauty wildflower.