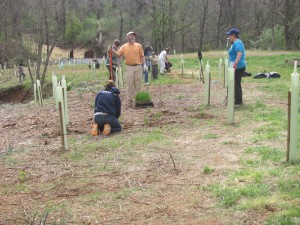 Two Rivanna Master Naturalist projects this spring have benefitted everyone who enjoys Charlottesville City Parks.  In April, twenty-two volunteers planted approximately 100 tree seedlings along Moore's Creek in Quarry Park. Rivanna Master Naturalists coordinated this event with the Rivanna Conservation Society and City of Charlottesville.
Last weekend, on June 7, many Rivanna Master Naturalists participated in the 26th annual Clean the Bay Day, an event spearheaded by the Chesapeake Bay Foundation.  This marks the 6th consecutive year (since 2009) that the Rivanna Master Naturalists have been local Charlottesville area site leaders in partnership with The Nature Conservancy. Other partners this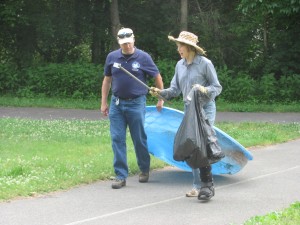 year (including the Chesapeake Bay Foundation and The Nature Conservancy) were the Rivanna Conservation Society, Blue Ridge Mountain Sports, Dixon Disposal and the City of Charlottesville. 41 volunteers participated picking up trash by canoe/kayak along a two mile stretch of the Rivanna River from Darden Towe Park to Riverview Park and along 1.5 miles of riverside trails. Approximately 750 pounds of trash were removed.  Rivanna Chapter members Pat Klima and Tex Weaver were the Master Naturalist site leaders and RMN Chapter member Carol Cutler provided educational materials at the Master Naturalist informational table.
Take a visit to Quarry Park or Riverview Park and enjoy the improved habitats!  And, check out more pictures of the buffer planting and of Clean the Bay Day 2014 on our photo sharing site!