This article is written by VMN volunteer and Rivanna Chapter member Terri Keffert, who co-founded and co-coordinates the Albemarle County NABA Butterfly Count.
About Our Count
A record number of eager and curious participants joined in on both the Advanced Butterfly Identification class in June and the annual Albemarle County/Charlottesville North American Butterfly Association (NABA) count that followed. Unfortunately, the same can't be said for the number of butterflies that were counted – following the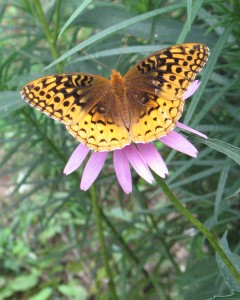 second long cold winter in a row, the numbers of individuals and species were significantly lower this summer.Over fifty intrepid students from Albemarle and surrounding counties came out to Ivy Creek Natural Area to learn how to identify butterflies on a stormy night on June 11, 2014. Nancy Weiss and Terri Keffert shared many of the marvelous characteristics that are used to distinguish each species from another, including some butterfly trivia along the way.
All that newfound or refreshed knowledge was then put to good use on Saturday, June 14, when 39 volunteers weresplit into three teams led by Nancy, Terri, and Laura Seale and sent to sites across the county to count butterflies. What a beautiful day it was! Temperatures were in the high 70s/low 80s and sunny. But signs of the long, cold winter were evident. Many of the flowers that pollinators love so much were still not blooming, or barely. But more than that, the butterflies that were so active after 2013's similar winter were not there this year. One concern was the lack of Eastern Tiger Swallowtails and the ever-present Cabbage Whites that are usually so prolific every year. The hope then was that the butterflies, like the flowers, were just getting a late start this year. However, now at the end of the summer, while numbers have risen, the populations still do not seem to have recovered.
The Rivanna Master Naturalist website has the data sheets for 2014, as well as a comparison summary of previous years' counts and conditions.
Overall, across all six sites, we counted 217 individuals and 19 different species, with Great Spangled Fritillaries, Eastern Tailed Blues, and Silvery Checkerspots dominating the counts. As a comparison, 535 individuals and 27 species were counted last year. Even in 2012, when the survey took place the day after the great derecho and temperatures were blistering hot, we counted 275 individuals and 26 species.  The data from 2014 and a comparison summary of previous year's counts and conditions are posted on our Publications page.
But this is why it's so important to perform these surveys – to be able to see the anomalies, and to become aware of possible trends or environmental problems that may be occurring. Myself, I'm optimistic that the butterflies will recover by next year if the winter conditions aren't repeated.
Many thanks from Nancy and Terri to all who helped with this count and all who wanted to!
Where have all the butterflies gone?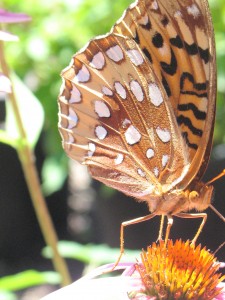 Concern about the lack of butterflies this year in Charlottesville and Albemarle County has generated much discussion about why this has happened. Even now, at the end of the summer, the diversity of species and the number of individuals is much lower than it has been in prior years.
One of the stronger hypotheses is that the butterflies were struck by a double whammy this year. First, we've had two years of long, cold winters, plus hard frosts this spring. (So many of the plants that normally survive took a hit this year, so it may make sense that the butterfly overwintering life-stage may have had a high mortality rate as well – not that they were reliant on those plants – just an related observation.)
Then perhaps to go along with that is a circle of life issue. The major cicada cycle last year lowered the number of acorns that larger critters had to feed on last winter, thus perhaps encouraging those animals to find and eat the protein-rich caterpillars/chrysalis' more than what is normal.
I got so excited this morning to see four Eastern Tiger Swallowtails on my Purple Coneflowers! That's the most I've seen together all year so far. Disconcerting when I remember how many of these I usually see all along the roadways and in the fields all summer. John Holden reported with excitement the larger numbers of butterflies he saw up in Shenandoah National Park last week, especially along the mown areas where monardas and other flowers have been allowed to grow. I'm suspecting that with fewer adults earlier in the year, it just may take more time and many generations to recover, but my hope is that they will.
I've wondered how far afield this population decrease has occurred. I haven't talked to anyone or read about any other areas of the country (except the Monarch problem, but that's a different issue.) But then, I haven't searched it out either. Since I'm not seeing national headlines about it, it makes me think that it is an environmental issue based on just our region (or wherever similar climate and/or cicadas conditions may have been present.) It'd be interesting to know…
What do you all think? Does that sound feasible? What are your insights? Your theories? Have you read or heard anything?