This article was written by RMN volunteer Bitsy Waters, with photos from Devin Floyd and other RMN volunteers and partners.  An expanded version of the text and more photos are available as three PDF files on our Publications page and as printed posters that can hang on our chapter's display board for use at events.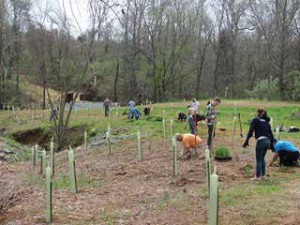 RMN volunteers are actively involved in the design, planting and maintenance of many native plant gardens and buffers in our area.  These native plant gardens have a number of goals, including creating habitat, protecting water quality, and developing broader understanding of the role of native plants in the health of our natural environment, not to mention the beauty these areas bring to our landscapes!
RMN volunteers work with schools, local governments, state agencies, and a host of non-profit partners to create and maintain these natural areas. Generally, partner organizations take the lead and ask for RMN help in installing and maintaining the gardens and buffers, but our members often play a major role in helping partners design the gardens and select the plants as well.
Many of our local schools are creating native plant gardens. This, along with creating kitchen gardens, is helping children learn about what it takes to sustain wildlife and grow our own food. Attracting butteries is always exciting too!
Local governments in our area are becoming increasingly focused on the value of natural plants in protecting our streams, managing stormwater and sustaining wildlife. Albemarle County has created a Piedmont Virginia Native Plant Web Database to support public and private efforts to use native plants:
Volunteer efforts have reached beyond our immediate area. They include native tree planting and seed collection in Shenandoah National Park and helping launch the Mid-Atlantic Regional Seed Bank for native seed collection with other east coast partners. These are part of larger regional and national eftorts to preserve and plant native species.
Ix Park Ecosystem Installation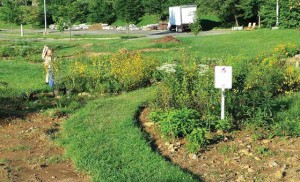 Center for Urban Habitats Rivanna Master Naturalist graduate Devin Floyd has founded the Center for Urban Habitats (CUH) in Charlottesville. The Center's mission is to advance understanding of biodiversity and natural history in the Charlottesville area by installing and monitoring experimental plots that exemplify local native plant and animal ecosystems. CUH is currently installing a large native plant community on a former industrial site in the heart of downtown Charlottesville. RMN and other volunteers are helping the Center with this effort. The installation at the IX Park is happening at the site of a buried stream that was once the heart of a vibrant ecosystem.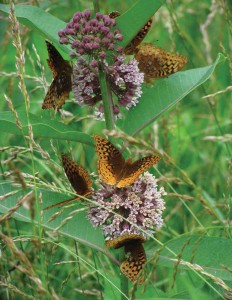 A meandering walking path was designed using stream flow geometry, and it courses through the native ecosystem and traces the long lost footprint of Pollock's Branch, which now runs through an underground pipe. When the meadow is completed it will contain more than 5,000 locally adapted native plants of more than 100 species. The site will convert roughly 12,000 square feet of neglected urban industrial space (surrounded by businesses, a parking lot and residences) to a vibrant ecosystem teaming with wildlife.
The plants were chosen as a community of interrelated species, rather than as a collection of specimens. This project involves more than just putting native plants in the ground. It replicates plant and wildlife communities for a broader ecosystem approach. A variety of wildlife is already being drawn to the site. Pollinating insects, birds, reptiles, amphibians and mammals are benefitting from the diversity of local milkweeds, mountain mints, asters, goldenrods, eupatoriums, and other plants that have been installed.
Other Native Planting Projects Rivanna Master Naturalists Have Helped Create and Maintain
Bog Garden at Washington Park
Partners: Albemarle Garden Club, Piedmont Master Gardeners, and Charlottesville Department of Parks and Recreation
Buttery Garden at Ivy Creek Natural Area
Partners: Piedmont Garden Club, Piedmont Master Gardeners and Ivy Creek Foundation
Clark School Native Plant Garden
Partners: Clark School, Charlottesville City School Yard Garden Program, Center for Urban Habitats and Thomas Jeerson Soil and Water Conservation District
Crozet Elementary School Rain and Streamside Gardens
Partners: Crozet Elementary School, Albemarle County Schools
Loft Mountain Native Planting and Seed Collecting
Partner: Shenandoah National Park
Monarch Garden at Burnley Moran School
Partner: Charlottesville City Schools
Mid-Atlantic Regional Seed Bank (MARSB)
Partners: New York City Department of Parks and Recreation, National Fish and Wildlife Foundation, and others
Piedmont Virginia Community College Native Plant Garden
Partners: PVCC and Albemarle County
Quarry Park Native Plant Buffer
Partners: Rivanna Conservation Society, Charlottesville Department of Parks and Recreation, U.Va. Batten School, Peace Lutheran Church
Virginia Cooperative Extension (VCE) Native Plant Garden at Albemarle County Office Building
Partners: VCE and Albemarle County
New native gardens and landscapes are being created all the time — is there one near you?