The Rivanna Master Naturalists organized and hosted their very first art exhibit, displayed at City Space on the Downtown Mall for two weeks in January. NBC29 did a
preview
of the show featuring Emily Luebke.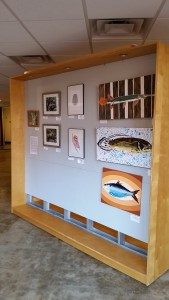 Despite foul weather, the January 8th opening night ranked as the second largest opening at City Space, with 187 attendees. The exhibit featured paintings, illustrations, photographs, and other mixed media pieces from artists living in and around the Rivanna River watershed.
The goals of the show were to raise awareness about the Rivanna Master Naturalists and the important work the chapter does in the community, to display the many artistic talents of the members, and to educate the public about our local natural environment.
Organizer Ida Swenson noted that "the general reaction of those seeing it for the first time was very positive!   Indeed, we all were amazed that a high quality show could be organized and set up in only two months. The general consensus was this will happen again!"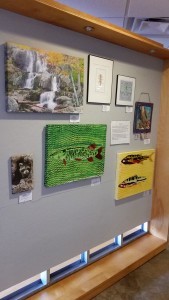 Swenson added that Rivanna Master Naturalists with favorite photos or art depicting our local, natural world should be looking ahead, as another art exhibit is likely to be organized in a few years thanks to the success of this month's event.
Thank you to the efforts of the organizing committee: Ida Swenson, Lara Gastinger, Emily Luebke, Victoria Dye, Randy Page and Terri Keffert with help from Joanne Dalley and Repp Glaettli.    
Exhibitors included all of the organizing committee and helpers as well as Rose Brown,  Rachel Bush, Nancy Donnelly, John Cruikshank, Pat Klima, Janet Paisley, Donita Ahearn, Linda Goodling, and Mark Rough.