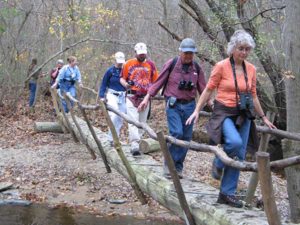 The Virginia Master Naturalist program is a corps of volunteers dedicated to conserving our natural heritage.  We work with sponsoring state agencies and with local partnering groups such as schools, parks, and environmental groups.  Our chapter includes members of all ages, interests and backgrounds, united by a desire to educate, gather scientific data, and participate in a variety of service projects designed to help protect and preserve our shared ecosystem.
The first step to becoming a Virginia Master Naturalist is the successful completion of a 40+ hour training course with your area chapter that includes both classroom and field experience. The training course is designed as a broad-based survey course that provides volunteers with background knowledge of the area in which they will pursue their service projects. This course is required only once in the life of a Virginia Master Naturalist. More on what to expect from your basic training. Basic Training Classes are held each spring (February – May) with several information sessions typically held the preceding winter (November – January).  Check back at the end of the year for more information one classes.
Applications
Applications are available at the beginning of each class cycle.  If you are interested in taking the class, check back at the end of the year for more information and class applications.
Information Sessions
Information sessions for the training classes are held at the beginning of each year in preparation for the upcoming classes .  These sessions provide a chance  to meet some of the Chapter members as well as better understand the program and the volunteer requirements. Three sessions will be held.  All are at Ivy Creek Natural Area Education Building at 1780 Earlysville Road, Charlottesville.  Sessions will be held at the beginning of each year before the beginning of class.  Dates and times will be announced later.
Please note, there is a class fee of $150 to cover materials and chapter operation costs. Enrolled participants will receive a Rivanna Master Naturalist notebook with the required curriculum materials, Peterson's Eastern Forests field guide, as well as various other field guides and books on local natural history topics.