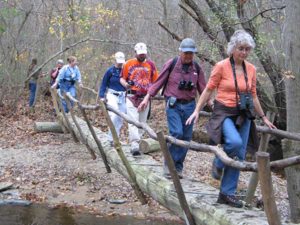 The Virginia Master Naturalist program is a corps of volunteers dedicated to conserving our natural heritage.  We work with sponsoring state agencies and with local partnering groups such as schools, parks, and environmental groups.  Our chapter includes members of all ages, interests and backgrounds, united by a desire to educate, gather scientific data, and participate in a variety of service projects designed to help protect and preserve our shared ecosystem.
The first step to becoming a Virginia Master Naturalist is the successful completion of a 40+ hour training course with your area chapter that includes both classroom and field experience. The training course is designed as a broad-based survey course that provides volunteers with background knowledge of the area in which they will pursue their service projects. This course is required only once in the life of a Virginia Master Naturalist. More on what to expect from your basic training.
Training Schedule The Rivanna Chapter of the Virginia Master Naturalists is pleased to announce that the 2018 Basic Training will begin in February. The 2018 class will meet on Wednesday mornings from 9am – 12 pm from mid-February to mid-May with field trips scheduled Wednesday afternoons and some Saturdays. A draft of the class schedule for 2018 is available and can be downloaded at this link. Draft 1 2018 class schedule
Applications
You can download the StudentApplication for 2018 Class and fill it out electronically.  Those who intend to apply for the class also need to submit  three references.  The Student Reference Form for 2018 Class can be downloaded and completed electronically.  We strongly encourage you to submit your application electronically to rma [dot] curriculum [at] gmail [dot] com.
IF YOU ARE MAILING THE APPLICATION, PLEASE WRITE 'CONFIDENTIAL' ON THE ENVELOPE. Please note that your application and all of the three required references are due by Friday, January 12. For more information, email enquiries about the class and application process should be sent to rma [dot] curriculum [at] gmail [dot] com
Information Sessions
Please join us!  We strongly encourage you attend an information session to meet some of the Chapter members as well as better understand the program and the volunteer requirements. Three sessions will be held.  All are at Ivy Creek Natural Area Education Building at 1780 Earlysville Road, Charlottesville.  Sessions will be held on
Wednesday, November 29 at 9 am
Saturday, December 16 at 10 am
Wednesday, January 3 at 9 am
Please note, there is a class fee of $150 to cover materials and chapter operation costs. Enrolled participants will receive a Rivanna Master Naturalist notebook with the required curriculum materials, Peterson's Eastern Forests field guide, as well as various other field guides and books on local natural history topics.
Firm Due Date For Applications and References is Friday, January 12