In addition to the 40-hour basic training, Virginia Master Naturalists are required to attend 8 hours of continuing education in order to qualify for certification. Advanced training is intended to provide volunteers with the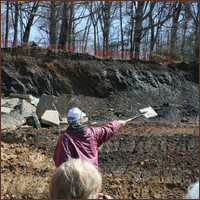 background knowledge and skills needed to effectively perform the volunteer service of their choice. Advanced training may be one eight hour workshop or several smaller programs.
Unlike basic training, eight hours of advanced training is required annually for re-certification.
While advanced training opportunities are many and varied, some examples of locally available advanced training include:
Stream monitoring training offered quarterly by StreamWatch.
Training sessions on Wildlife Mapping, Project WILD, Project Learning Tree, etc offered by state agencies.
Interpretive guide training for the School Tour program at the Ivy Creek Natural Area offered in the spring and fall of each year.
First Saturday Bird Walks offered each month by the Monticello Bird Club at the Ivy Creek Natural Area.
Tree identification walks offered quarterly by the Ivy Creek Foundation.
See other advanced training opportunities on our calendar of events.